Cozumel Carnaval 2018
Official Cozumel Pre-Carnaval & Carnaval Schedules Released
Everything you need to know about 2018 Carnival ……
Marking 143 years of tradition, preparations for the 2018 Cozumel celebration are underway.  In fact, all the dates for the Pre-Carnaval and Carnaval Events have been released, including this year's official poster
The actual Carnaval will take place from February 3rd – 10th with parades on February 10, 11 and 13th.
This does not include all the fun pre-carnaval events including the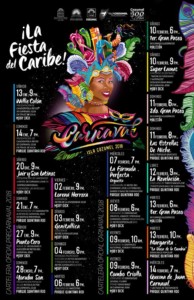 selection of the Royal Court.
For more information, and to get your party planning underway, check out the official Carnaval de Cozumel Facebook page
Se dan a conocer los programas oficiales de pre-Carnaval y del Carnaval
Todos los Detailes sobre Carnaval 2018….
Marcando la tradición de 143 años, las celebraciones en Cozumel para el 2018 ya se encuentran en marcha. De hecho, todas las fechas para los eventos de pre-Carnaval y del Carnaval han sido publicados, incluyendo el poster oficial de este año.
El Carnaval en sí, tendrá lugar de Febrero 3 al 10  y los paseos se llevarán a cabo los días 10, 11 y 13 de Febrero.
Ello no incluye todos los divertidos eventos del pre-Carnaval incluyendo la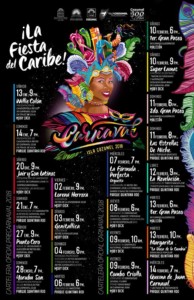 elección de la corte real.
Para mayor información y para planear su fiesta, eche un vistazo a la página oficial del Carnaval en Facebook.
Laura Wilkinson is the Editor for Cozumel 4 You. An ex-Connecticut Yankee who has called Cozumel home for over 15 years, Laura ran away to the Caribbean years ago, bumped around the islands teaching SCUBA diving, lost some time in Jamaica, and finally stopped in Cozumel for a 2 week vacation that hasn't ended yet. With a degree in Journalism from a fancy private college she convinced her parents to pay for, Laura writes, edits, and creates the weekly Cozumel 4 You news, promotional articles about the island, and her very own blog, which she finds hilarious. Her long suffering husband, the Fabster, has long since resigned himself to having zero private life, as he's been involved in her various schemes and plots since his arrival. Proud parents to a variety of rescue dogs and cats, Laura continues to be the bane of her traditional Mexican mother-in-law's existence, as she muses her way through life in the Mexican Caribbean.
Latest posts by Laura Wilkinson (see all)