Cozumel Carnaval 2018 Parades
Cozumel Carnaval 2018 Parades This Weekend
Congratulations to the Royal Court – See you at the Parade
Cozumel Carnaval 2018 is already off to a great start.  The Royal Court has already been voted in.  This year's King & Queen are Michelle Emporio and Frank Alonzo.  The Infantile  King & Queen are Valeria Rodríguez  and Norman Alexander "Chocolatito" Chi Rodríguez and César Martín and Cristóbal Bacab, winning the coveted Juvenile Royal court spots.
Cozumel is ready for the 2018Carnaval Parades, which will take place starting this weekend on Saturday February 10, Sunday February 11, and on Tuesday February 13.  Cozumel's downtown waterfront, or malecon, has been painted and decorated with whimsical creatures in accordance with this year's theme.
The parade route starts at the Palacio Municipal down one side of the waterfront, turns at SEDENA and laps around the other side.  The official judges station is located on the Esplanade.
The official page including the schedule of events can be found here. Please also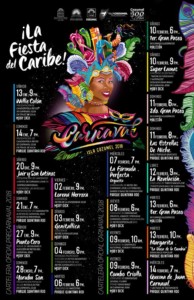 keep in mind that several streets will be closed to traffic, and plan accordingly. This is one of the island's biggest celebrations!  Please celebrate responsibly.
Este fin de semana, los desfiles del Carnaval 2018 de Cozumel
Felicidades a la Corte Real. Nos vemos en los desfiles. . .
El Carnaval 2018 de Cozumel ya ha tenido un gran comienzo. Se ha elegido la Corte Real y este año los reyes son Michelle Emporio y Frank Alonzo. Los reyes infantiles son Valeria Rodríguez y Norman Alexander "Chocolatito" Chi Rodríguez; como rey juvenil, Cristóbal Bacab y como rey de la Alegría César Martin.
La Isla de Cozumel ya está lista para los desfiles del Carnaval 2018 que tendrán lugar el fin de semana, los días sábado 10 de febrero, domingo 11 de febrero y martes 13 de febrero. El malecón de Cozumel ha sido pintado y decorado con figuras fantásticas acordes con el tema de este año.
La ruta de los desfiles comienzan en el Palacio Municipal, dando vuelta en Sedena hacia el otro sentido.  El puesto de los jueces oficiales se localiza en la Explanada.
Aquí pueden encontrar la página oficial de los eventos y el programa. También tomen en cuenta que diversas vialidades estarán cerradas al paso del transito por ende hagan sus planes conforme ello. ¡Esta es una de las mayores celebraciones en la Isla! Por favor celebren de manera responsable.
Latest posts by Laura Wilkinson
(see all)