Cozumel Recipe Share
Cozumel Recipe Share:  Zucchini Summer Stuffing Casserole
I love this dish. It's easy to make, and zucchini, or calabasa italiana as it's called here, is in season this time of year.  It's also vegetarian – if you use a vegetable based soup.  I first made this recipe for a dinner party last year after discovering beautiful zucchini at Maharaja. I searched for a light dish that could be made in advance and hoped it would be as tasty as it sounded. There was not a morsel left! I've since made it on numerous occasions and am considering incorporating it into my traditional Thanksgiving meal this year!
Zucchini Stuffing Casserole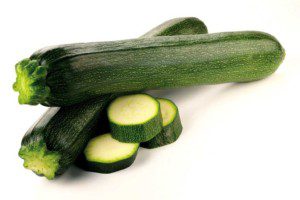 3 to 4 cups zucchini, sliced or shredded (I've tried both and prefer the shredded)
3/4 cup shredded carrot
1/2 cup chopped onion
4 tbsp. plus 2 Tbsp butter
2 1/4 cups seasoned croutons (these can be found at Mega – all flavors)
1 can cream of mushroom soup (cream of celery or chicken works well too)
1/2 cup sour cream (I prefer the Daisy brand, found at Pacsadeli)
Preheat oven to 350 degrees F (175 deg. C). Butter an 8 x 8-inch baking dish. I usually add a bit more of everything for a 9 X 13-inch casserole dish.
Cook zucchini in a little salted water until tender (around 5 minutes).
Melt 4 Tbsp butter in cast iron skillet. Slowly sauté carrots and onions in butter until tender. Remove from heat. Stir in 1 1/2 cups croutons, soup and sour cream. Fold in cooked zucchini; place in prepared baking dish.
Toss 2 Tbsp melted butter and croutons; top casserole. Bake for 30 to 40 minutes.
Pro Tip:  Some variations would be to add parmesan or another type of cheese on top before you add the croutons.
Compartiendo recetas en Cozumel: relleno guisado de calabacitas para el verano por Madeleine Mason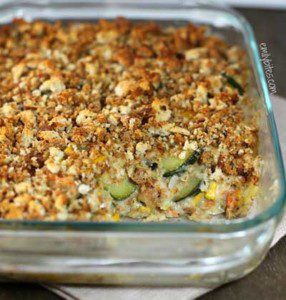 Me encanta este platillo. Es sencillo de preparar y en esta época del año es temporada de calabacitas. También es un platillo vegetariano, si utiliza una sopa a base de vegetales. Prepararé esta receta por primera ocasión para una cena hace un año después de descubrir unas bellas calabacitas en el Maharaja. Buscaba preparar un platillo ligero para preparar  y esperaba que fuera tan sabroso como sonaba. ¡No quedó ni una migaja! Desde entonces lo he preparado en diversas ocasiones, ¡y estoy pensando incluirlo este año a mi tradicional comida de Día de Gracias!
Relleno Guisado De Calabacitas
3 a 4 tazas de calabacitas, rebanadas o ralladas (he probado las dos formas y prefiero las ralladas)
3/4 de taza de zanahoria rallada
1/2 de taza de cebolla picada
4 cucharadas más 2 cucharadas de mantequilla
2 1/4 tazas de crutones sazonados (pueden encontrarlos en Mega, en todos los sabores)
1 lata de crema de champiñones (o en su lugar pueden usar crema de apio o pollo)
1/2  taza de crema agria (prefiero la marca Daisy que puede adquirirse en Pacsadeli)
Precaliente el horno a 350 grados F (175 °C). Esparza mantequilla en un recipiente para hornear de 8 c 8 pulgadas.  Por lo general agrego un poco más de todo para un recipiente para guiso de 9×13 pulgadas.
Ponga a coser las calabacitas en agua con un poco de sal hasta que estén suaves (alrededor de 5 minutos).
Derrita 4 cucharadas de mantequilla en una sartén de hierro. Dore las zanahorias y la cebolla lentamente hasta que estén suaves. Retire del fuego; intégrelas en una mezcla con 1 1/2 de taza de crutones, sopa y crema agria. Añada las calabacitas cocidas; coloque en el recipiente para hornear.
Agregue 2 cucharadas de mantequilla derretida y los crutones sobre el guiso. Hornee de 30 a 40 minutos.
Sugerencia: Para algunas variaciones pueden agregar queso parmesano u otra clase de queso sobre el guiso antes de añadir los crutones.
Originaria de Houston, Texas, Madeleine Manson ha vivido en Cozumel desde hace casi 13 años y labora en Occidental Vacation Club. Esta felizmente casada con Danny quien disfruta de pasar noches semanales haciendo sus experimentos de recetas junto con algunos amigos quienes también la hacen de conejillos de Indias con los platillos que ella tiene que probar. Madeleine espera preparar platillos que no están dentro de su zona de comodidad tex-mex asi como filete y papas. También desea animar la participación de otro chef amateur (o profesional) y que la contacte a través de Facebook en su páginaCozumel Recipe Share .

Latest posts by Madeleine Mason
(see all)