Enfrijoladas: Create A Culturally Important Dish – Recipe
Chef Alejandro Torres, 10 Experiences Tour Cozumel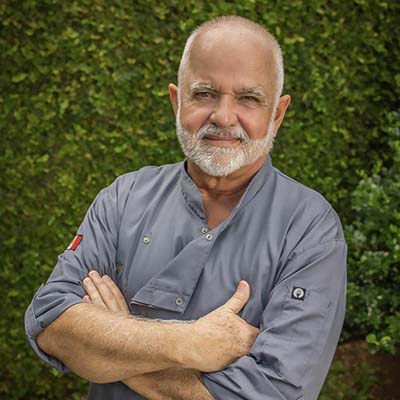 Hello good day. I want to share what happened yesterday, Saturday, my daughter, granddaughters and two friends who arrived home surprising me. It was quarter to ten in the morning, and no one had had breakfast. I soon I heard two of my granddaughters say "Grandpa, what are you going to make; we are hungry". Hahahahahaha as they know that I love the kitchen and then got down to work, open the imagination, the pantry and refrigerator to prepare something that they loved.
Always with pleasure Alejandro Torres, Executive Chef, 10 Experiences Tour
Ingredients for the enfrijoladas which will surprise anyone
Canola oil
Sour cream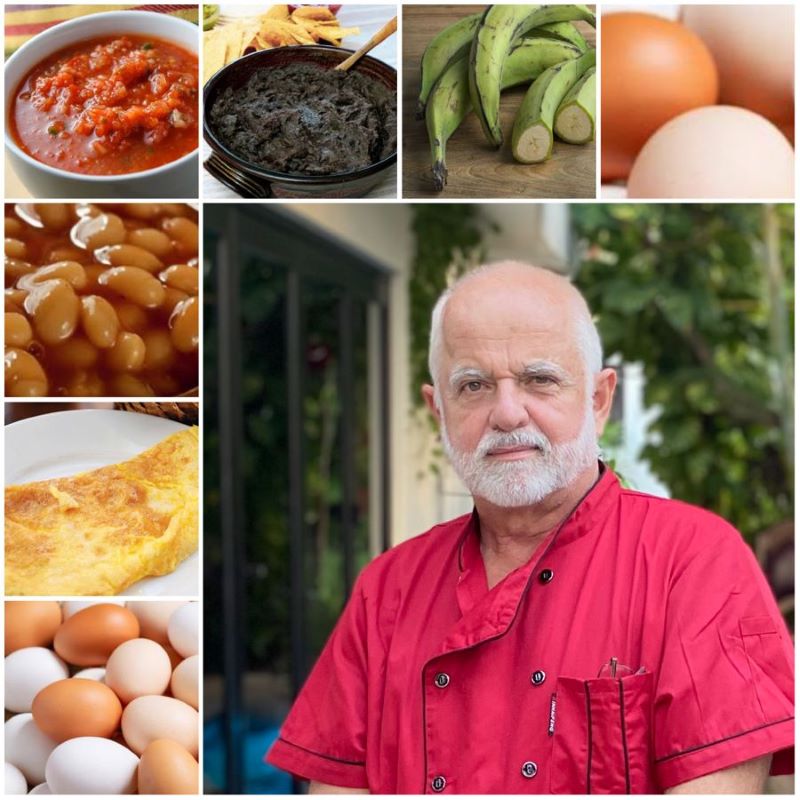 Whole bayo beans
Crushed and fried black beans
Fine herbs
Eggs
Milk
Plantain
Salt and pepper
Red sauce to taste
The novel contribution is that, as I did not have corn tortillas available, I used eight eggs. In a bowl I beat the eggs with a pinch of salt, pepper and fine herbs, added a little milk, in a hot non-stick pan I emptied a portion with a spoon spreading it all out making a thin tortilla. Then repeated the action until I had 24 pieces or until the mix runs out.
Taking into consideration that I already had seasoned beans prepared in a clay pot, in two frying pans I placed a portion enough for eight people. The black beans must be slow cooked until they have a thick consistency. Black beans must be warmed up only in their own broth and set aside.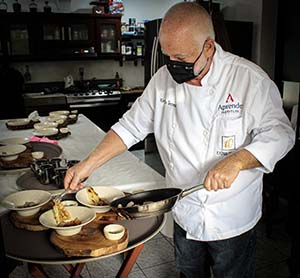 I peeled the plantains, then cut them into small squares and fried them in very hot oil, leaving them on paper towels, add a little salt.
Well, for the presentation take the egg tortilla, smear a portion of black beans and roll it into a taco shape; make it with three pieces and put them on a spread-out plate, spoon some berry beans with their own broth on top, spread some plantains and top with a bit of sour cream. I left a red sauce available for everyone to add as much as they wanted.
All the family and friends appreciated the breakfast. It was a very nice moment and I think you can do the same any day of the week.
Enfrijoladas: Crear un platillo culturalmente importante.
Receta del chef Alejandro Torres, 10 Experiences Tour Cozumel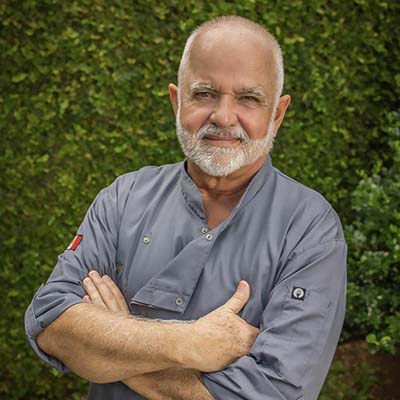 Comparto la receta sencilla y deliciosa, aplicable para cuando quieras sorprender a tus seres queridosHola buen día, quiero compartir lo que sucedió ayer sábado, llegaron a casa de sorpresa mi hija, nietas y dos amigos, eran cuarto para las diez de la mañana y curiosamente nadie había desayunado, pronto escuche de dos de mis nietas decir, abuelo que vas hacernos tenemos hambre, jajajajaja como supieran que me encanta la cocina y pues a poner manos a la obra, abrir la imaginación, la despensa y el refrigerador para preparar algo que les encanto..
Ingredientes para la elaboración de enfrijoladas que sorprenderán a cualquiera
Aceite de canola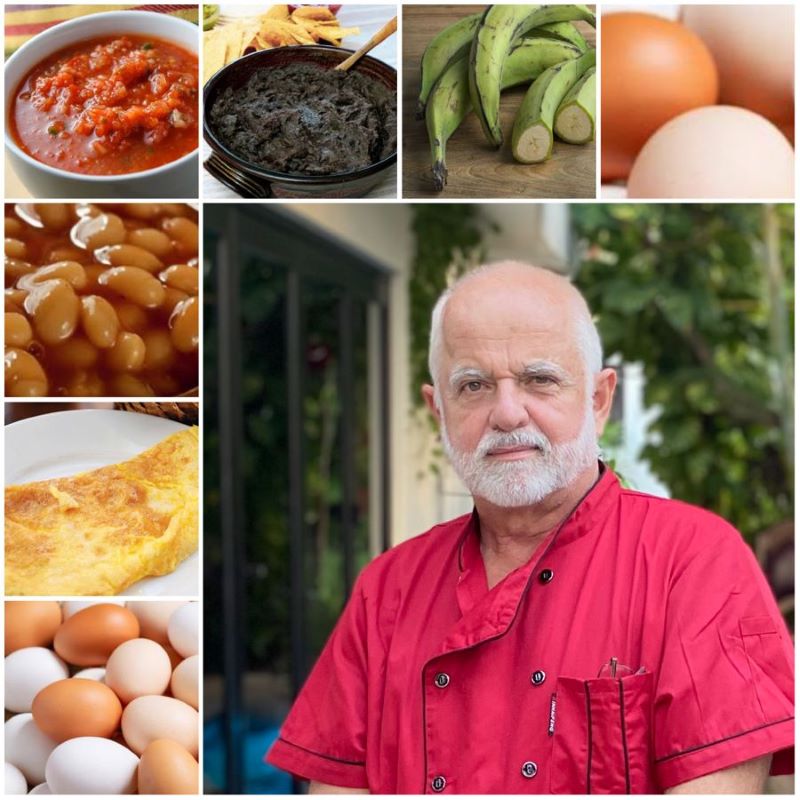 Crema ácida
Frijoles bayos enteros
Frijoles negros machacados y fritos
Hierbas finas
Huevos
Leche
Plátano macho
Sal y pimienta
Salsa roja al gusto
La aportación novedosa es que, al no tener tortillas de maíz disponibles utilicé ocho huevos, en un recipiente los batí con una pizca de sal, pimienta y hierbas finas, agregué un poco de leche, en sarten caliente antiadherente vacié con un cucharon una porción distribuyéndola en toda la base, es decir hasta obtener una tortilla delgada, repetir la acción hasta tener 24 piezas o que se termine la mezcla.
Considerando que ya tenía los frijoles sazonados y hechos en olla de barro, en dos sartenes puse una porción suficiente para ocho personas, los frijoles negros hay que dejarlos que espesen mucho, con la llama baja hasta que queden con una consistencia masuda, los frijoles bayos solamente calientes con su propio caldo y reservar.
Los plátanos machos los pelé, luego los partí en cuadros pequeños y en sarten con aceite muy cliente los freí, dejándolos sobre papel absolvente, coloqué un poco de sal.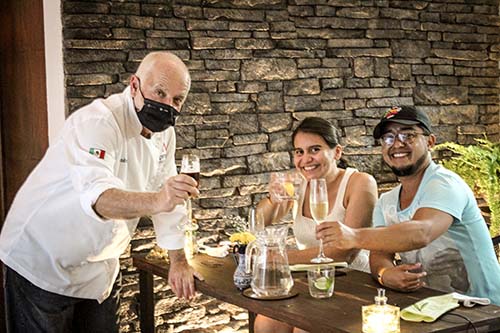 Bien, para la presentación tomar la tortilla de huevo embarrar porción de frijoles negros y enrollar en forma de taco, hacerlo con tres piezas y ponerlas en plato extendido, encima distribuir con cucharon frijoles bayos con su propio caldo, esparcir trozos de los plátanos machos y coronar con una porción de crema ácida. Dejé una salsa roja disponible para que cada quien le pusiera la cantidad al gusto.
Toda la familia y amigos agradecieron el desayuno, fue muy agradable momento y creo que tú lo puedes hacer cualquier día de la semana.
Latest posts by Laura Wilkinson
(see all)