Mexican Money
Mexico Launches New 20 Peso Coin: a Mennonite Commemorative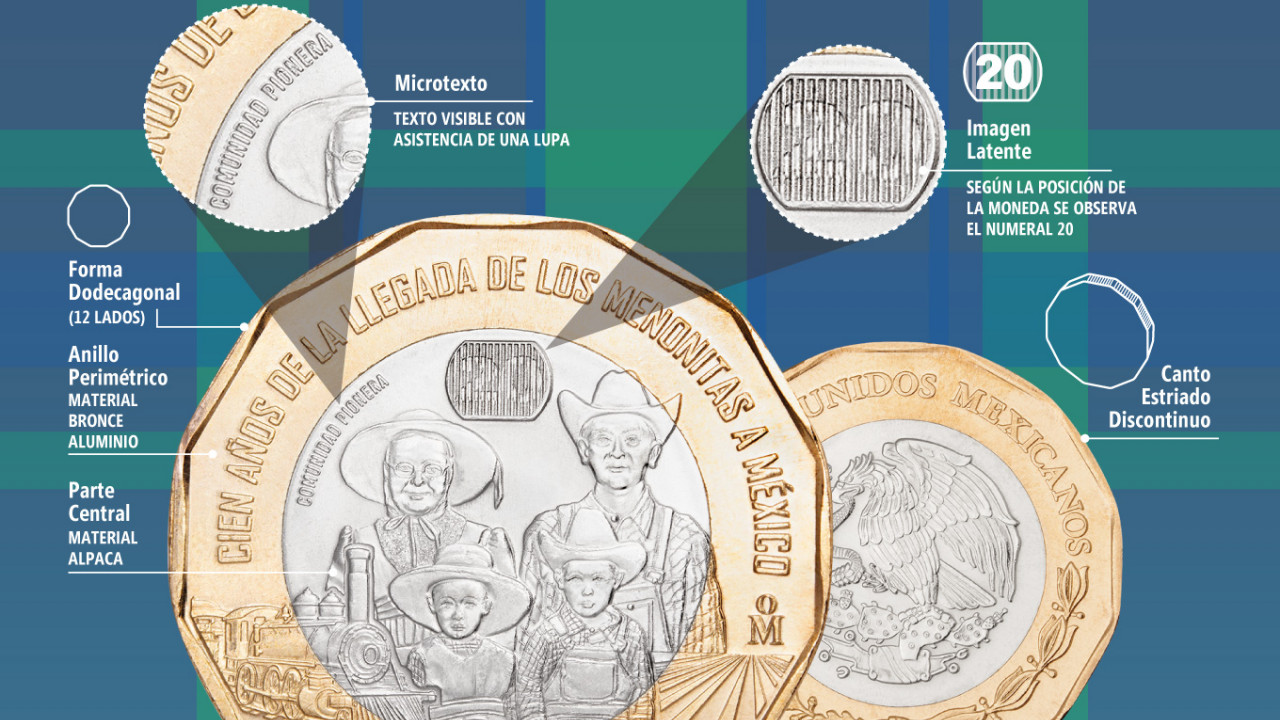 The National Bank of Mexico (Banxico) has recently into circulation a  new 20-peso coin, commemorating the hundred year  anniversary of arrival of the arrival of the Mennonites in Mexico.
Banixco has announced that this new coin  is bimetallic, in a similar style to the common 10 peso coin.   The central part of the coin is a silver-plated alloy, whose content is 65% copper; 10% nickel and 25% zinc. The perimeter ring of the coin is a bronze-aluminum alloy, whose content is 92% copper; 6.0% aluminum and 2.0% nickel
The new 20 peso coin has a dodecagonal shape, and features the National Shield surrounded by the legend "Estados Unidos Mexicanos," on one side, while the reverse shows a Mennonite family in the center, with a railway to the left and a plowed field to the right.
Additionally, the new coin has a microtext, the number 20 and a latent image, of the pioneering community, as a anti counterfeit security measure.  The "M" to the right of the legend also signifies that it was created by the national Mint.
According to Excelsior.com, the new coin is already in circulation and should be making its way around the island of Cozumel in no time.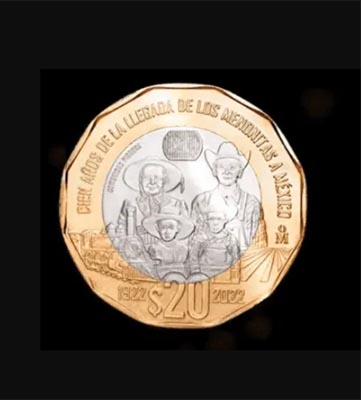 México lanza una nueva moneda de 20 pesos en honor a los menonitas
El Banco Nacional de México (Banxico) acaba de poner en circulación una nueva moneda de 20 pesos conmemorando el centenario de la llegada de los menonitas a México.
Banxico informó al público que esta nueva moneda es bimetálica, con un estilo similar a la moneda de 10 pesos. La parte central de la moneda tiene un estilo similar al de la moneda común de 10 pesos. La parte central de la moneda es una aleación de plata cuyo contenido es 65% de cobre, 10% de níquel y 25% de zinc. El anillo perimetral de la moneda es una aleación de bronce y aluminio, cuyo contenido es 92% de cobre, 6.0% de aluminio y 2.0% de níquel.
La nueva moneda de 20 pesos tiene forma dodecagonal, y muestra el Escudo Nacional rodeado por la leyenda "Estados Unidos Mexicanos" en una de sus caras, mientras que al reverso muestra una familia menonita en el centro, con un ferrocarril a la izquierda y un campo arado a la derecha.
Además, la nueva moneda tiene un microtexto, el número 20 y una imagen latente de la comunidad pionera, como medida de seguridad contra la falsificación.  La "M" a la derecha de la leyenda también significa que fue creada por la Casa de Moneda de México
De acuerdo con Excelsior.com, la nueva moneda ya se encuentra en circulación y deberá llegar a la Isla de Cozumel en poco tiempo.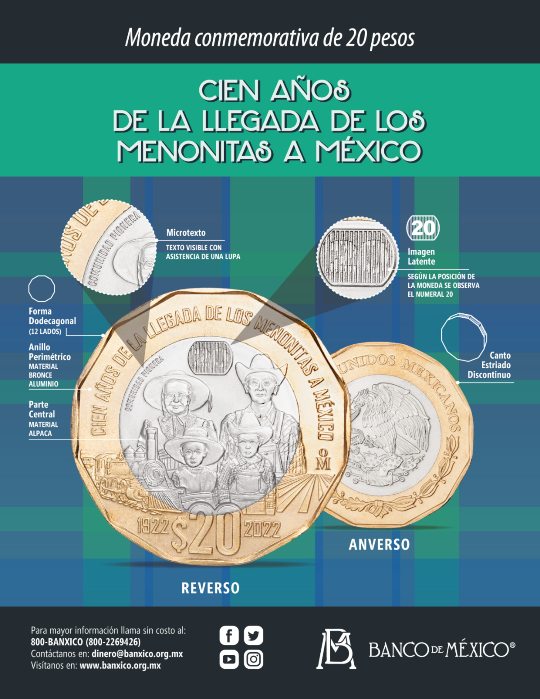 Latest posts by Laura Wilkinson
(see all)