Cozumel May Celebration Activities
500 Year Celebrations Begin
May 1 – 13 – Join in the Fun……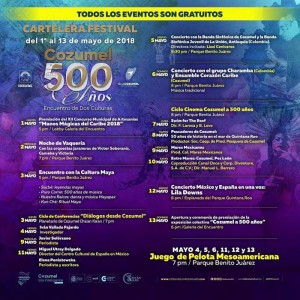 The celebrations commemorating 500 years of history and two cultures have officially started and will run until the 13th of May.    There will be symphonic concerts, conferences, recreations of traditional Mayan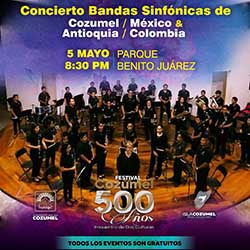 games, and more!!
The municipal tourism department as well as individuals and corporations from the private sector have been working together to create a massive program of varied activities that is sure to have something for everyone.
One of the big highlights will a concert by the Grammy-winning Lila Downs.  For more information on all of these amazing events, please click on their posters for more details or contact Turismo Cozumel.
Comienzan las celebraciones de los 500 Años
Del 1º al 13 de mayo, únase a la diversión. . .
Iniciaron ya las celebraciones de conmemoración de 500 años de historia y de dos culturas y continuarán hasta el 13 de mayo. Habrán conciertos de la orquesta sinfónica, conferencias, representaciones de juegos mayas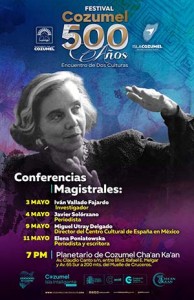 tradicionales, ¡y más!
La Dirección Municipal de Turismo así como particulares y empresas del sector privado han estado trabajando en conjunto para crear este programa masivo de actividades diversas que de seguro tendrá algo para cada quien.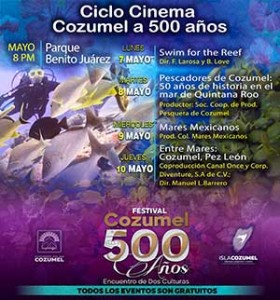 Uno de los eventos más destacados será el concierto de Lila Downs,  ganadora del premio Grammy. Si desea mas información sobre todos estos increíbles eventos, obtenga mayores detalles dando clic a los posters o póngase en contacto con Turismo Cozumel.
Laura Wilkinson is the Editor for Cozumel 4 You. An ex-Connecticut Yankee who has called Cozumel home for over 15 years, Laura ran away to the Caribbean years ago, bumped around the islands teaching SCUBA diving, lost some time in Jamaica, and finally stopped in Cozumel for a 2 week vacation that hasn't ended yet. With a degree in Journalism from a fancy private college she convinced her parents to pay for, Laura writes, edits, and creates the weekly Cozumel 4 You news, promotional articles about the island, and her very own blog, which she finds hilarious. Her long suffering husband, the Fabster, has long since resigned himself to having zero private life, as he's been involved in her various schemes and plots since his arrival. Proud parents to a variety of rescue dogs and cats, Laura continues to be the bane of her traditional Mexican mother-in-law's existence, as she muses her way through life in the Mexican Caribbean.
Latest posts by Laura Wilkinson (see all)