World's Largest Cruise Ship Cozumel
World's Largest Cruise Ship to Call into Cozumel
RCCL's Symphony of the Seas Arrives Sunday…….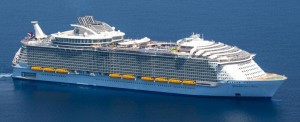 Royal Caribbean Cruise Line's newest and largest ship will be making it's Cozumel debut this upcoming Sunday, November 11, 2018. The "Symphony of the Seas" cost over a billion dollars to build, and has a capacity of 6,680 passengers and 2,200 crew.
Although the Symphony was actually launched in April this will be it's first cruise out of what will be it's home port of Miami.
The "Symphony of the Sea"  is built on the same platform as the "Harmony of the Seas,"  which was previously the largest cruise ship, however the "Symphony" boasts more than 1,000 tons, more cabins and more passenger capacity.
The Symphony has been designed for passengers who love large Mega resorts and features boardwalks, twin flow ride surf simulators, laser tag and more.  For a complete virtual tour please view this YouTube video.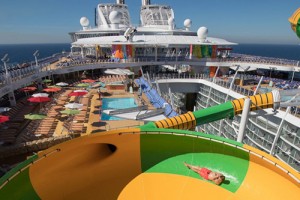 Including their newest addition, the Royal Caribbean fleet now touts 25 ships.
Arribará a Cozumel el buque turístico más grande del mundo
El Symphony of the Seas de la empresa naviera RCCL arriba el domingo . . .
El buque turístico más nuevo y más grande de la empresa naviera Royal Caribbean hará su debut tocando puerto el domingo 11 de noviembre del 2018. La construcción del buque Symphony of the Seas tuvo un costo de más de mil millones de dólares, y tiene una capacidad de 6,680 pasajeros y 2,200 tripulantes.
Si bien el Symphony fue botado el pasado mes de abril, este será el primer viaje de su travesía, zarpando desde su puerto de origen en Miami.
El buque Symphony of the Seas fue armado en la misma plataforma que el Harmony of the Seas que anteriormente fuera el de mayor tamaño; sin embargo, el Symphony presume tener más de 1,00 toneladas, más camarotes y mayor capacidad para pasajeros.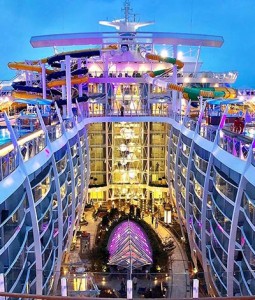 Symphony of the Seas ha sido diseñado para pasajeros que gustas de mega centros para vacionar y cuenta con malecones, simuladores de doble flujo para surfear, juego de combate con láser y más. Pueden hacer un tour virtual completo a través de este video en YouTube.
La flota Royal Caribbean, incluyendo su nueva adquisición, ahora cuenta con 25 buques.
Laura Wilkinson is the Editor for Cozumel 4 You. An ex-Connecticut Yankee who has called Cozumel home for over 15 years, Laura ran away to the Caribbean years ago, bumped around the islands teaching SCUBA diving, lost some time in Jamaica, and finally stopped in Cozumel for a 2 week vacation that hasn't ended yet. With a degree in Journalism from a fancy private college she convinced her parents to pay for, Laura writes, edits, and creates the weekly Cozumel 4 You news, promotional articles about the island, and her very own blog, which she finds hilarious. Her long suffering husband, the Fabster, has long since resigned himself to having zero private life, as he's been involved in her various schemes and plots since his arrival. Proud parents to a variety of rescue dogs and cats, Laura continues to be the bane of her traditional Mexican mother-in-law's existence, as she muses her way through life in the Mexican Caribbean.
Latest posts by Laura Wilkinson (see all)