Cozumel Surfing Beach Clean Up Competition
Come to Cozumel Grom Fest 2022:  Dec 11 Youth Surf Competition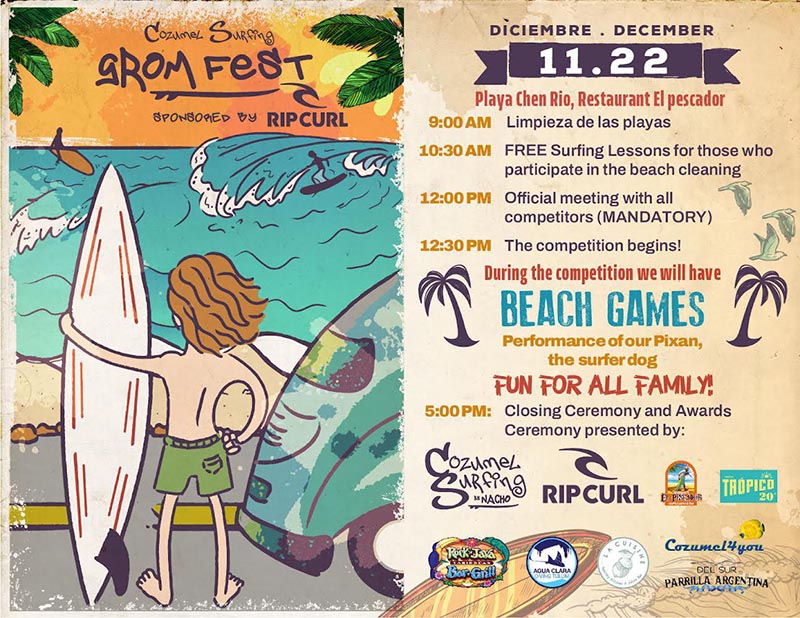 Everyone is invited to come & participate in the Cozumel Grom Fest, sponsored by Rip Curl & Cozumel Surfing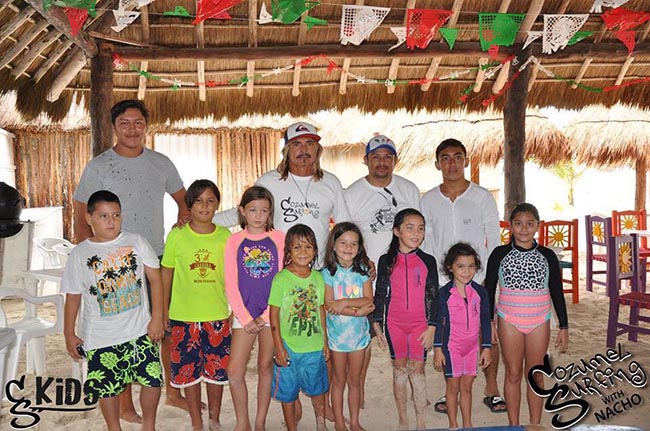 What is a Grom?
A grom is a child surfer.  There's a whole squad of them with Cozumel Surfing.  Surfing is an amazing sport for mind and body, and teaches children respect for the ocean and environmental consciousness.
What is Grom Fest?
Grom Fest is a : It's a surfing event for kids and teens between the ages of 5-17 years old. There will be a beach cleanup beginning at 9am, followed by free surf classes for anyone who helped clean the beaches.
The main show is the 12:30pm friendly surf competition, during which Pixan the surf dog will give a surf show as well. We will have fun beach games for all ages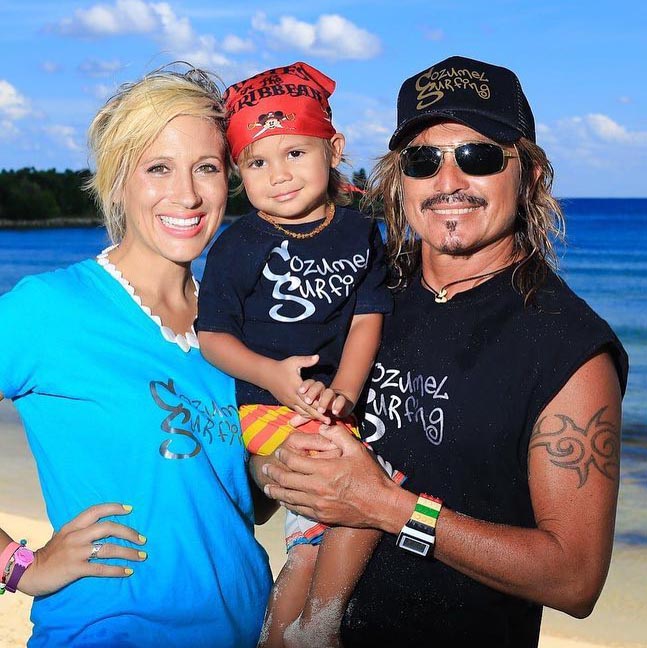 𝐖𝐡𝐞𝐧 is Grom Fest?
Sunday, December 11, 2022, beginning at 9am.
Where: Chen Rio Beach, El Fisherman Restaurant,
Cozumel, Q. Roo.
Feel free to contact Nacho (987  111 9290)  or Katie from Cozumel Surfing with any questions you may have
Vengan al Cozumel Grom Fest 2022: 11 de diciembre competencia de surf juvenil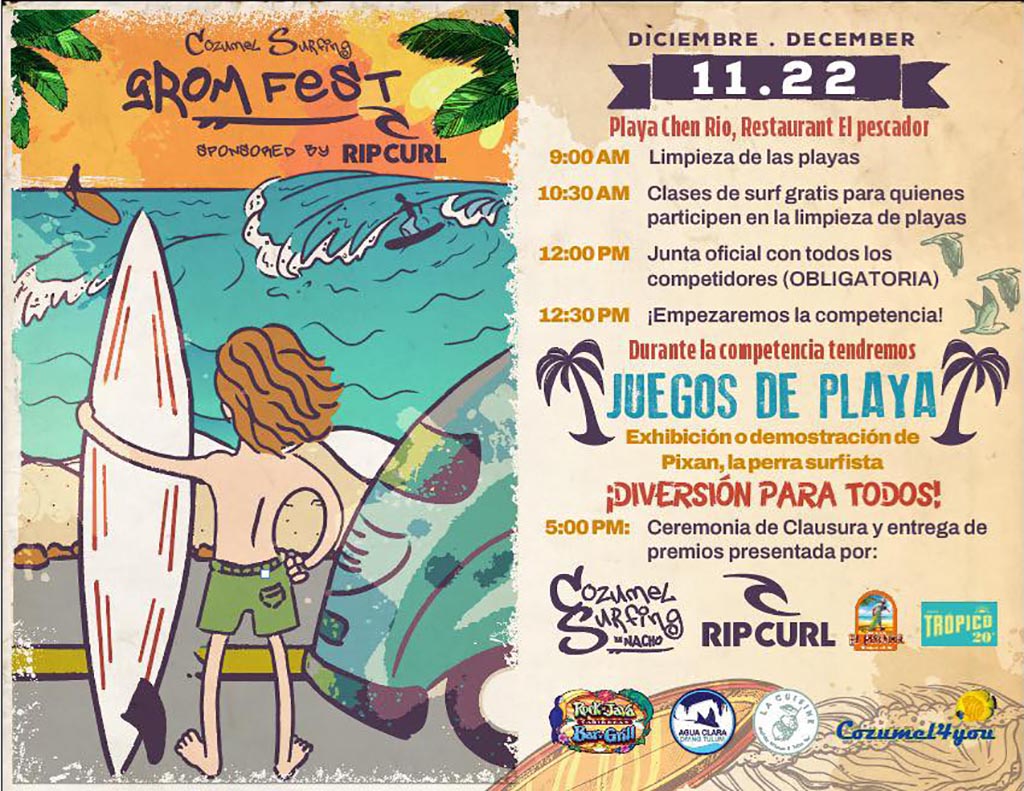 Todos están invitados a venir y participar en el Cozumel Grom Fest, patrocinado por Rip Curl y Cozumel Surfing.
¿Qué es un Grom?
Un grom es un niño surfista.  Hay todo un escuadrón de ellos con Cozumel Surfing.  El surf es un deporte increíble para la mente y el cuerpo, y enseña a los niños el respeto por el océano y por el medio ambiente.
¿Qué es el Grom Fest?
Grom Fest es: un evento de surf para niños y adolescentes de 5 a 17 años. Habrá una limpieza de playas a partir de las 9 de la mañana, seguida por clases de surf gratuitas para todos los que ayuden a limpiar las playas.
El espectáculo principal es la competencia amistosa de surf a las 12:30 durante la cual Pixan, el perro surfista, dará también un espectáculo de surf. Tendremos divertidos juegos de playa para todas las edades
¿Cuándo es el Grom Fest?
El domingo 11 de diciembre de 2022, a partir de las 9 de la mañana.
Dónde: Playa Chen Río, Restaurante El Pescador, Cozumel, Q. Roo.
¡No dude en ponerse en contacto con Nacho (987  111 9290) o Katie de Cozumel Surfing con cualquier pregunta que tenga!
Latest posts by Laura Wilkinson
(see all)