Mattress Tips 101:  Mexican size vs. USA size
Mattress Tips 101:  Mexican size vs. USA size
Luh McDevitt takes us through the difference & provides base & sheeting tips…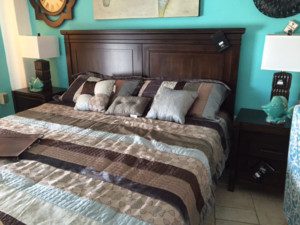 When I first came to Cozumel in 2000, I sent a container down with my US size king mattress and two twins that were for a trundle bed. I continued to buy sheets in the states and bring them with me, so it never occurred to me to be concerned about different size mattresses or sheets. Not until 2005, when we started importing furniture from the states.
The first US beds that arrived from Ashley, I tried shoving the Mexican mattresses in to the wood frames of the bed and they didn't fit. The king mattresses could be turned one turn to fit, but the box springs were too wide and too short. Those can't be turned. Even worse were the queens. I remember an especially tall man in Puerto Aventuras who was renting, screaming at me that the bed had a 4" gap at the end.  Why couldn't I find a mattress that fit his US made frame?
Therefore, we began to sell two types of mattresses, those for Mexican beds and those for US beds. The reality is, and I am going to do this in metric, a Mexican king is 2.0 meters wide x 1.90 meters long. A US mattress is 1.93 meters wide x 2.03 meters long. For some mattresses, if they have no direction, it really doesn't matter. But for some spring type mattresses, there is a direction to the mattress, so if you turn it one turn, it will feel different sleeping on it. For memory foam and memory foam gel, there is not a direction so I recommend you can turn them one turn to place in a Mexican frame, if it is mattress only for a platform bed. But that won't work for box springs as they need to be placed on the bed frame perpendicular to the headboard, so they work the opposite way of the slats of the bed. The only kind of solution to this, and I don't highly recommend it, is to place a piece of plywood between the slats of the bed and the box springs and run them parallel to the headboard. (I am sure by now this makes no sense at all. Sorry, but it much easier to explain by demonstration.) The only real problem with this solution is with all our humidity is having a solid piece of plywood under your bed is not a great solution.
For queens, there is no solution except to buy US mattresses as the ones from the states are 13 cm longer than Mexican mattresses. That's right. A Mexican queen mattress is 1.50 meters wide x 1.90 meters long. A US queen mattress is 1.53 meters wide x 2.03 meters long. That 13 cm really is a big difference, over 4 inches. You end up with a big hole at the end of the bed.
The other problem is the sheets don't fit either. Now if you buy Mexican sheets from Chedraui, for example, they will probably be Mexican size. If you have Mexican mattresses, they will work. Thread count is usually not good, and the sheets are scratchy. But if you are like me and want better thread count sheets, then I haul mine down from the states. For our beds that we sell are US sized, the US sheets and bedding work perfectly. Then you only need to take in to consideration the height of the mattress, which effects the width and length you need of the
comforter or duvet. Maybe we can save that for another post.
We no longer buy many Mexican mattress sets, and encourage our customers to buy their Mexican size mattresses and foundations wherever they like. If you buy only headboards from us, that works too. But if you want to be able to enjoy your US bedding and sheets and sleep in style, you can get US sized mattresses from us. Our mattress, foundations and bedding are all US sizes. And if you have a question about this, feel free to stop by and I will explain it to you in person.
Consejos básicos sobre colchones: Tamaño mexicano vs estadounidense
Luh McDevitt nos describe las diferencias, y consejos para bases y sábanas…
Cuando llegué a Cozumel en el año 2000 envié un contenedor con mi colchón estadounidense tamaño  "king" y dos colchones individuales para una cama rodante, doble. Continué comprando mis sábanas en los Estados Unidos y trayéndolas conmigo, por lo que nunca me preocupé sobre las diferencias en los colchones o sábanas.  No fue sino hasta el año 2005 que comencé a importar muebles desde los Estados Unidos.
En las primeras camas que llegaron de Ashley de los Estados Unidos, traté de empujar los colchones mexicanos en los marcos de las camas y no cupieron.  Los colchones tamaño "king" podían ser volteados en una dirección para acoplarse, pero las bases de la cama eran demasiado anchas o demasiado estrechas.  Esas no es posible voltearlas. Es incluso peor con las camas  matrimoniales . Recuerdo particularmente a un
hombre alto en Puerto Aventuras que rentaba una propiedad, y gritándome que la cama tenía un espacio de 4" al final. ¿Cómo es que no podía yo conseguir un colchón que cupiera en su marco de cama traído de los EEUU?
Por lo tanto, comenzamos a vender dos tipos de colchones; aquellos hechos para camas mexicanas y aquellos de camas estadounidenses. La realidad es que, y voy a hacerlo con el sistema métrico: una cama "King" mexicana es de 2.0 metros de ancho x 1.90 metros de largo. Un colchón de los EEUU es 1.93 metros de ancho x 2.03 de largo. En el caso de algunos colchones, si no tienen dirección, en realidad no importa. Sin embargo, para algunos colchones de resortes, éstos tienen dirección, así que si usted le da una vuelta puede sentirlo distinto al dormir. Para el colchón de espuma con memoria  o de gel con memoria,  no tienen dirección por lo que recomiendo que se les de una vuelta para poder adaptarlos en un marco de cama mexicano, si es que éste es un colchón sólo para una cama con base estilo plataforma. Pero eso no funcionará para las bases de resortes ya que es necesario colocarlos en forma perpendicular a la cabecera para que funcionen de manera opuesta  a las tablillas de la cama. La única solución para esto, y francamente no la recomiendo mucho, es colocar un pedazo de triplay entre las tablillas de la cama y la base de resortes, y dirigirlo de manera paralela a la cabecera (estoy segura que esto no tiene ningún sentido. Discúlpenme, pero es más sencillo explicarlo demostrándoselos) El único problema real con esta solución, es que con toda la humedad que tenemos un pedazo de triplay bajo su cama no es realmente una gran solución.
Para camas matrimoniales no hay solución alguna salvo adquirir colchones de los EEUU ya que ésos son 13 cms más largos que los colchones mexicanos. Así es. Un colchón matrimonial es 1.50 metros de ancho x 1.90 metros de largo, Un colchón matrimonial estadounidense es 1.53 metros de ancho x 2.03 de largo. Esos 13 cms son una gran diferencia sobre las 4 pulgadas. Usted termina con un gran hueco al final de la cama.
El otro problema es que las sábanas tampoco quedan bien. Ahora, si por ejemplo adquieren sábanas mexicanas en Chedraui, es muy posible que sean tamaño mexicano. Si cuentan con un colchón mexicano, éstas se ajustarán bien; pero los hilos no son buenos y las sábanas se sienten ásperas. Y si usted es como yo y quiere sábanas con hilos de mejor calidad, entonces me traigo mis sábanas de los EEUU. Para las camas que vendemos que son tamaño estadounidense, las sábanas y ropa de cama procedente de los EEUU funciona perfectamente. Entonces, sólo es necesario que tome en cuenta la altura del colchón, ya que tiene consecuencias en el ancho y largo de la colcha o edredón.  Posiblemente dejemos el tema para una ocasión futura.
Ya no compramos juegos de colchones mexicanos y  sugerimos que nuestros clientes adquieran sus colchones tamaño mexicano y las bases donde lo deseen. Si usted compra las cabeceras con nosotros, eso también puede funcionar. Pero si desea disfrutar su ropa de cama estadounidense, sábanas y dormir con estilo, entonces puede obtener colchones estadounidenses con nosotros. Todos nuestros colchones, bases y ropa de cama son de tamaños estadounidenses. Y si tiene dudas sobre este tema, siéntase con la libertad de visitarnos y se lo explicaré personalmente.

Latest posts by Luh McDevitt Madera
(see all)