Mayan Culture Dance Karina Carrion Cozumel News
The preservation of the Mayan culture through dance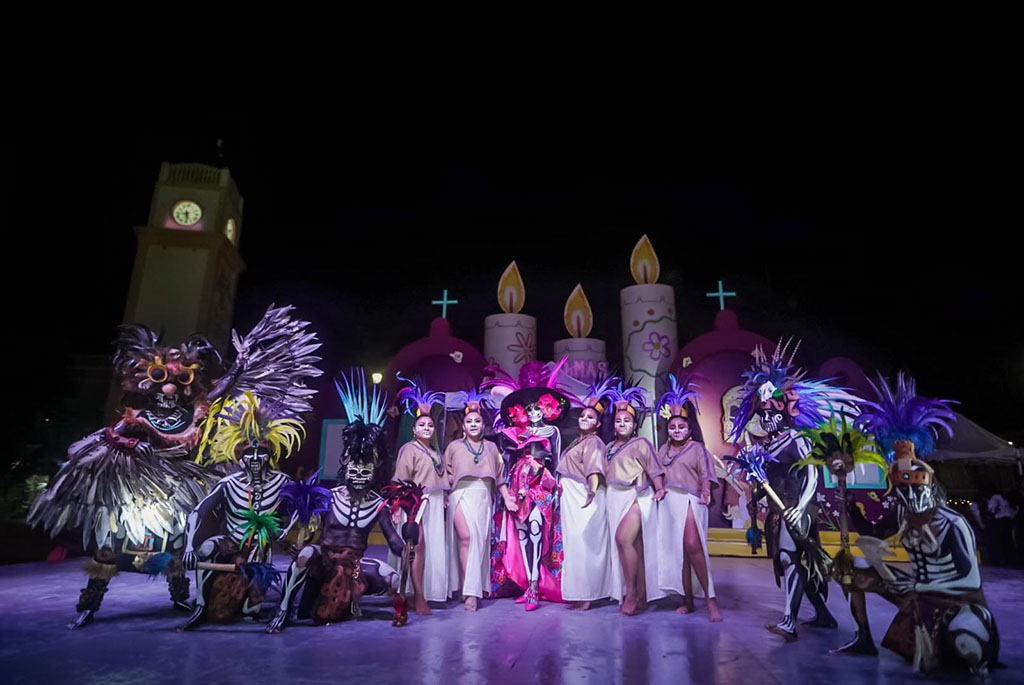 By Karina Carrión.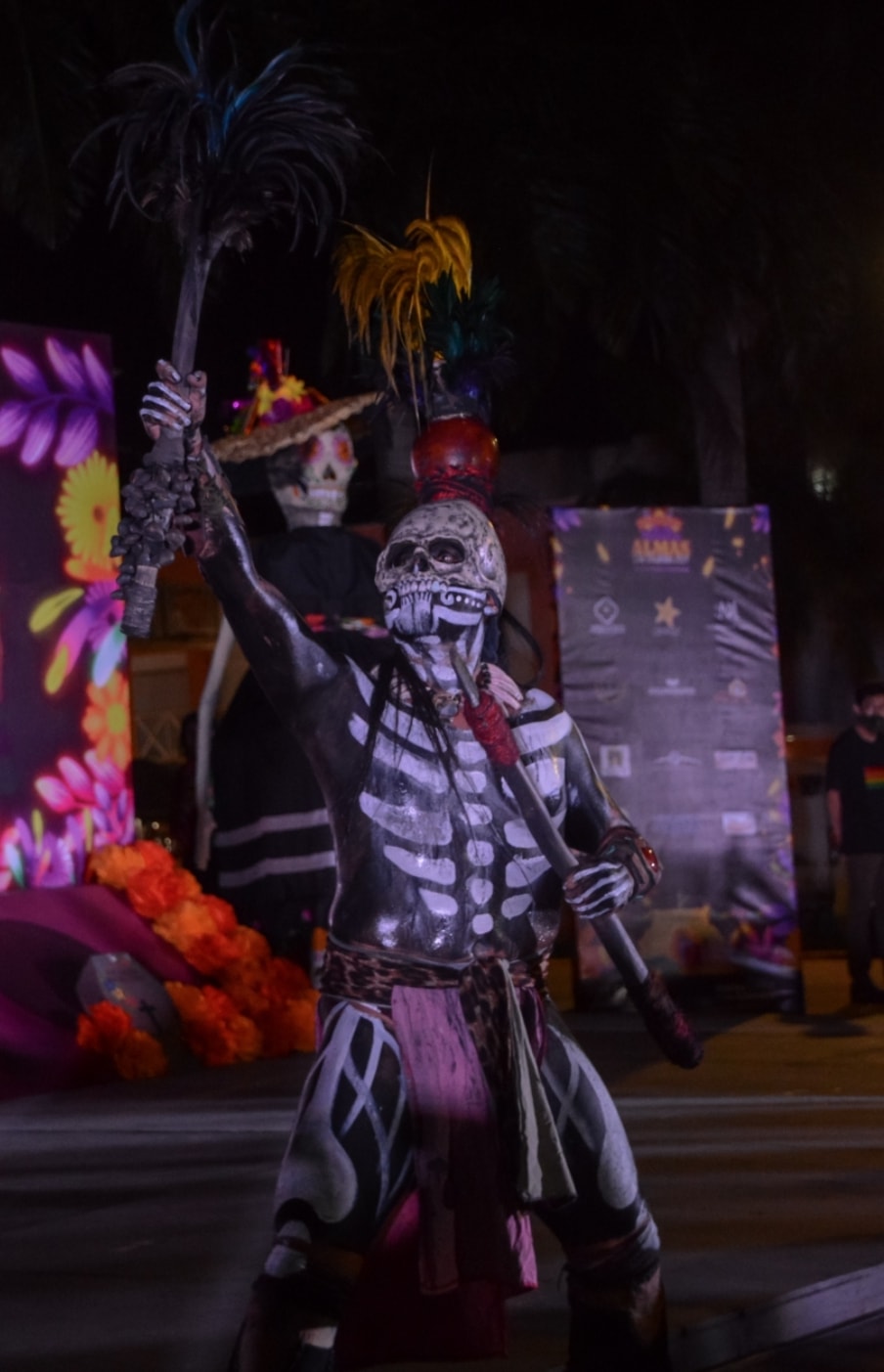 COZUMEL, November. – The Hummingbird (Tz'unun) us the most significant bird in the Mayan culture for its wisdom and magic, mythology says. That is why, about a year ago, a group of dancers in Cozumel named themselves Tzu'unun Ekos Prehispánicos, and since then have been performing their colorful and innovative show in town.
The group of dancers formed by almost 10 members are directed by Galo Alejandro Herrera Rodriquez, a chemical engineer, but currently committed to preserve the Maya and pre-Hispanic culture. Hence he decided to form a group of "amateurs" but who, as of today, have shown love, passion, and dedication to each of their performances.
While they have had more than a dozen performances, these demand the best of each member when impersonating or interpreting an assigned role, which could highlight the jaguar, the owl, death, or maidens, just to mention a few of the roles the group has created.
Galo acknowledged that for him as well as for his peers, the goal is to reach the level of those who, he says, have been his teachers and inspiration, referring to the members of the Julkiin Cozumel dance company;  whom, he affirms: "…are the best; a total inspiration for us who are just starting. And, in my case, I am grateful that one day I was able to start in their group with the pre-Hispanic dance."
He recalled that he had to leave the group he admires because he has a job to do; therefore, nowadays organizing his time and that of his peers, they harmoniously integrate in each performance as the dance requires much physical and spiritual passion.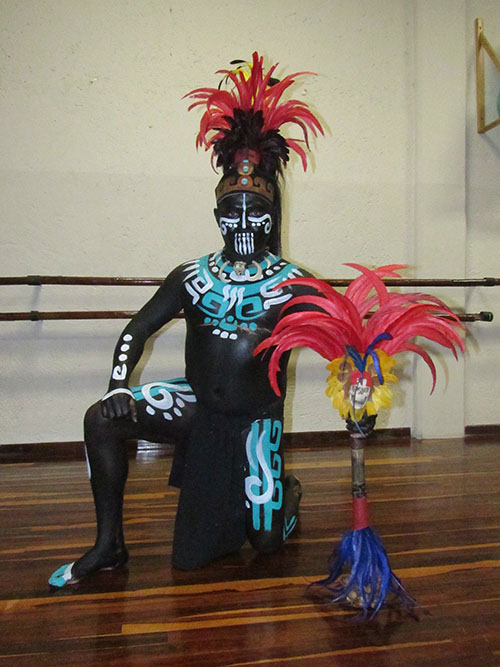 Jorge, Darwin, Raúl, Leslie, Eva, Perla, Fabiola, among others, are members of the Tzu'unun Ekos Prehispánicos. Each shared that they have separate jobs so, at a slower tempo than others, they seek to consolidate as a team to further improve their performances which, they assured, are executed with love and dedication for the audience.
The group's peculiar name is in memory of the director's mother as well as of Isabel Solís Vera, a well-known dance teacher and good friend of his mother. So, they searched for a name deciding that it would be the likeness of a hummingbird because it is also a symbol of great importance for the Mayan culture .
With painted bodies, high plumes and fine feathered headdresses, pre-Hispanic canes, the dancers invest up to more than 12 thousand pesos in each costume, which is why they place such a high value in each one of them; as well as to the women's horsehair made pigtails and the stylized feathers for the men.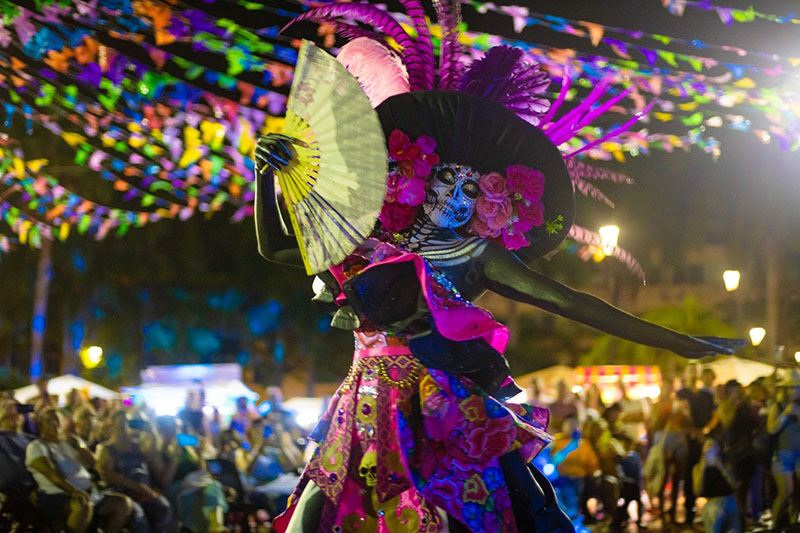 They are defined by terracotta colors as well as black, blue, purple and, especially, turquoise making it a bit difficult to get ahold of some pieces of clothing within the region .
The group of dancers take part in different ceremonies for which they are hired. This enables them to increase their costumes. So, if you are looking to have a different sort of celebration with your friends, do not hesitate and hire this group of youngsters committed to preserve the Mayan culture.
La preservación de la cultura maya a raves de la danza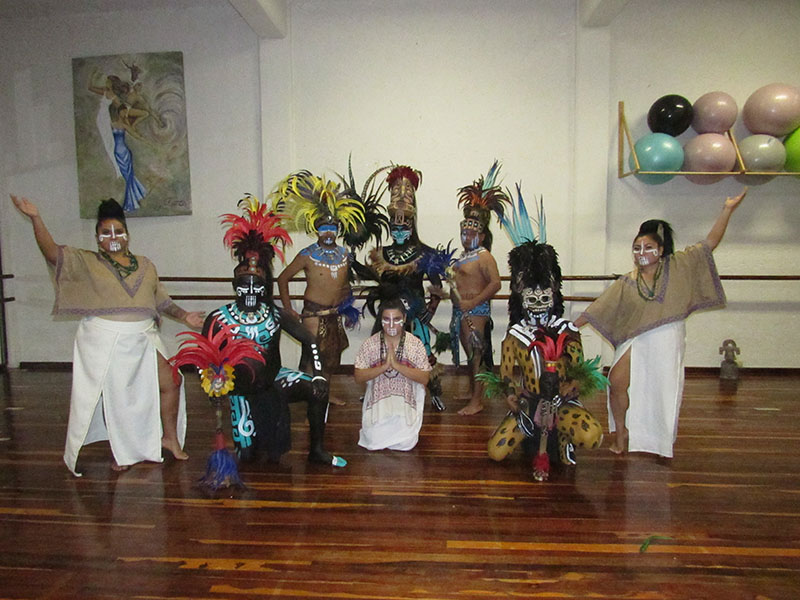 Por Karina Carrión.
COZUMEL, noviembre.- El Colibrí (Tz'unun) es el ave más significativo de la cultura maya por la sabiduría y la magia, según la mitología;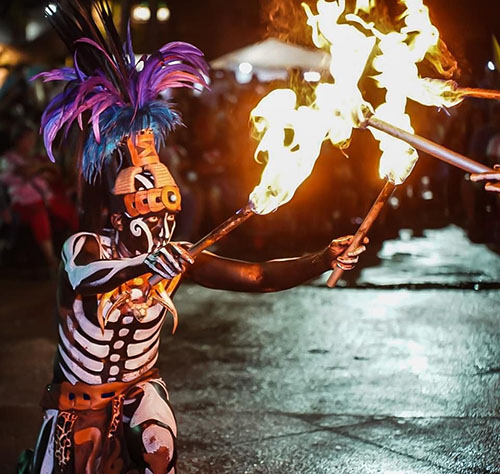 por ello un grupo de danzantes en Cozumel, se bautizaron desde hace un año bajo el nombre: "Tz'unun Ekos Prehispánicos", presentando desde entonces su colorido e innovador espectáculo en la localidad.
Con casi 10 integrantes, el grupo de danzantes son dirigidos por Galo Alejandro Herrera Rodríguez, de profesión en ingeniería química, pero comprometido hoy en día con la preservación de la cultura maya y prehispánica, por lo que decidió conformar el grupo para "novatos" pero que hoy en día han demostrado el amor, la pasión y la entrega en cada una de sus interpretaciones.
Aunque han realizado más de una decena de presentaciones, cada una de ellas exige lo mejor de cada uno de los integrantes al momento de comenzar la personificación o interpretación del papel asignado entre los cuales podría resaltar el jaguar, el búho, la muerte o las doncellas, por mencionar algunos de los roles que se desarrollan entre el grupo.
Galo Herrera, reconoció que para él y sus compañeros, su meta es poder alcanzar el nivel de quienes asegura, han sido sus maestros e inspiración, refiriéndose a los integrantes de la compañía de danza prehispánica "Julkiin Cozumel", de quienes dijo "son los mejores, son total inspiración para nosotros que vamos comenzando y en mi caso agradezco que un día pude iniciar en su grupo con la base de la danza prehispánica".
Recordó que tuvo que dejar el grupo al que admira, debido a que tiene un trabajo al que se dedica, por consiguiente, hoy en día con la organización de su tiempo y el de sus compañeros, buscan poder integrarse de manera armónica en cada presentación que les exige mucha pasión física y espiritual para cada danza.
Jorge, Darwin, Raúl, Leslie, Eva, Perla, Fabiola, entre otros, son quienes conforman el grupo "Tz'unun Ekos Prehispánicos", y cada uno de ellos compartió que tienen su trabajo alterno, por lo que, a menor ritmo de otros buscan poder consolidarse como equipo para poder seguir perfeccionando sus presentaciones que aseguraron, son hechas con amor y dedicación para los espectadores.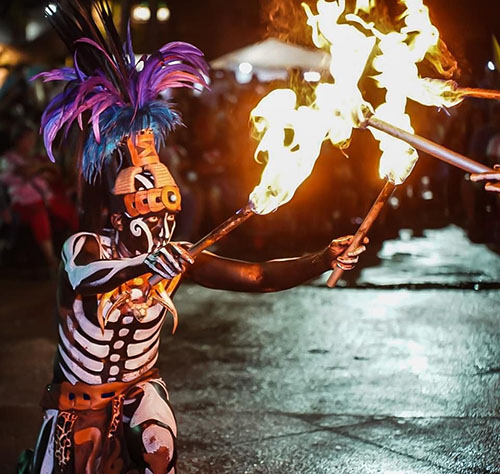 El nombre peculiar del grupo es en memoria de la madre del director del grupo, así como de la conocida maestra Isabel Solís Vera, quien fue amiga de su madre; por ello hicieron una búsqueda del nombre, decidiendo que sería la imagen del colibrí por ser además una imagen de mucha importancia en la cultura maya.
Con el cuerpo pintado, altos penachos y tocados de plumas finas, bastones "prehispánicos", los danzantes llevan una inversión de hasta más de 12 mil pesos en cada traje, por lo que le dan mayor valor a cada uno de éstos, tanto de las mujeres con las coletas de pelo de caballo como las plumas estilizadas en el caso de los varones.  Le caracterizan los colores terra, negro, azul, morado y sobre todo el turquesa, lo que hace que sea difícil de adquirir algunas piezas de la vestimenta en la región.
El grupo de danzantes también participa en diversas ceremonias donde son contratados, lo que permite que vayan adquiriendo más trajes, así que, si usted busca tener una celebración diferente con sus amigos, no lo dude y contrate a este grupo de jóvenes que apuestan por la preservación de la cultura maya.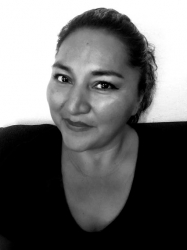 Latest posts by Kary Carrión
(see all)