Cozumel Airport Arrivals
Cozumel Airport Readies for Busiest Travel Week of the Year
End of February Arrivals Traditionally Heavy….
The week of February 26 – March 4 is traditionally considered to be the busiest week of airline arrivals to Cozumel for the year.  Over 55 flights are scheduled to arrive during this week, and bring more than 7,000 visitors to the island.  The majority of these flights originate in the United States and Canada.
El aeropuerto de Cozumel se prepara para la semana más activa del año
Por lo general las llegadas aumentan a finales de Febrero. . . .
La semana de Febrero 26 a Marzo 4 tradicionalmente se considera la más activa  del año en lo respecta a llegadas de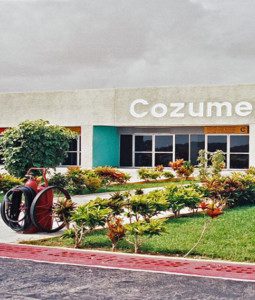 vuelos a Cozumel. Se espera el arribo de 55 vuelos durante esa semana, con 7,000 visitantes. La mayoría de los vuelos se originan en los Estados Unidos y Canadá.
Laura Wilkinson is the Editor for Cozumel 4 You. An ex-Connecticut Yankee who has called Cozumel home for over 15 years, Laura ran away to the Caribbean years ago, bumped around the islands teaching SCUBA diving, lost some time in Jamaica, and finally stopped in Cozumel for a 2 week vacation that hasn't ended yet. With a degree in Journalism from a fancy private college she convinced her parents to pay for, Laura writes, edits, and creates the weekly Cozumel 4 You news, promotional articles about the island, and her very own blog, which she finds hilarious. Her long suffering husband, the Fabster, has long since resigned himself to having zero private life, as he's been involved in her various schemes and plots since his arrival. Proud parents to a variety of rescue dogs and cats, Laura continues to be the bane of her traditional Mexican mother-in-law's existence, as she muses her way through life in the Mexican Caribbean.
Latest posts by Laura Wilkinson (see all)